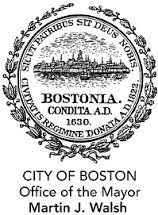 Boston to return to Step One of Phase Three of the Reopening Massachusetts plan as COVID-19 testing and vaccination efforts are expanded
(BOSTON – Tuesday, January 26, 2021) – As Boston's COVID-19 numbers trend modestly downward and Massachusetts continues to expand access to vaccination against COVID-19, Mayor Martin J. Walsh today announced the City of Boston will return to Step One of Phase Three of the Reopening Massachusetts plan on February 1, 2021.
"I want to thank everyone who continues to do their part to protect our city," said Mayor Walsh. "While there has been some improvement in recent weeks, it's still vital that everyone remains vigilant. Wear your masks. Avoid gatherings. Wash your hands and disinfect surfaces. Think about the simple steps you can take on a daily basis to protect yourself and your loved ones."
As of January 17, 2021, the City was averaging 415.6 COVID-19 positive cases per day, down from a high of 590.4 in mid-January, and the City's positivity rate was at 7.2 percent, down from a high of 8.9 percent in early January. For more information on COVID-19 cases per neighborhood, visit here.
Given the improvement in the number of COVID-19 cases and the City's positivity rate, the City of Boston will return to Step One of Phase Three of the Reopening Massachusetts plan on February 1, 2021. Boston had been in Step One of Phase Three of the Reopening Massachusetts plan since July 6, before returning to a modified Step Two of Phase Two on December 16, 2020. This was done to help reduce the spread of the virus during and after the holiday period when more people were traveling or gathering with others from outside of their household.
Massachusetts recently announced an extension of the existing 25 percent capacity limits for most businesses through Monday, February 8, 2021. All gatherings and events remain subject to current capacity limits of 10 people indoors and 25 people outdoors. The gatherings limit applies to private homes, event venues and public spaces. For a list of sectors subject to the extended capacity restrictions, click here.
The following industries in the City of Boston may reopen on February 1, 2021, at 25 percent capacity:
Indoor fitness centers and health clubs, including gyms using alternative spaces 
Movie theaters
Museums
Aquariums
Indoor recreational and athletic facilities 
Indoor recreational venues with potential for low-contact (batting cages, driving ranges, bowling alleys, rock-climbing) 
Sightseeing and other organized tours (bus tours, duck tours, harbor cruises, whale watching)
Indoor historical spaces & sites 
Indoor event spaces such as meeting rooms, ballrooms, private party rooms, and social clubs (limited to 10 people)
Indoor and outdoor gaming arcades associated with gaming devices
Additional details about the current state of reopening can be found on Boston.gov/reopening.
COVID-19 Vaccination and Testing Efforts
The City is working with the Commonwealth of Massachusetts to vaccinate residents against COVID-19. The Reggie Lewis Center will open as a vaccination site during the first week of February to anyone who is eligible under the State's vaccine distribution timeline. In Boston, two mass vaccination sites have been announced: Fenway Park and Reggie Lewis Center. Following the State's lead, the Boston Public Health Commission in partnership with the Mayor's Office of Health and Human Services is working to create equitable access to the COVID-19 vaccine across all populations and neighborhoods in the city.
"In these unprecedented times, we must work together and find new ways to support each other and our community," says Roxbury Community College president Dr. Valerie Roberson. "It's crucial to have a mass vaccination center that is accessible via public transportation in a location that is familiar and comfortable. We are pleased to have the opportunity to provide such tangible support to the City and State efforts to combat the spread of COVID-19."
For more information on when and where you will be eligible to receive the vaccine, please visit Mass.gov/COVIDvaccine.
"Getting tested regularly and taking the vaccine when you have the opportunity to are key to helping us defeat this virus," said Mayor Walsh. "We have over 30 testing sites open across the city that are quick and easy to utilize. We know people have lots of questions about the vaccine, and we're committed to making this information as clear and accessible as possible. I want to thank Roxbury Community College for working with us and the Commonwealth to open a mass vaccination site at the Reggie Lewis Center. We'll continue to work collaboratively to direct resources to where they're needed most."
Together with the Office of Arts and Culture, the Office of Health & Human Services, and the Boston Public Health Commission, Mayor Walsh today announced the Strand Theatre is now serving as a COVID-19 testing site. The testing is being conducted thanks to a partnership between the City of Boston, The Strand Theater, the Brookside Community Health Center, Brigham and Women's Hospital, Southern Jamaica Plain Health Center, and Upham's Corner Community Health Center. Testing at the Strand is available to anyone at no cost and regardless of symptoms. Insurance is also not required.
The Strand, which is located at 543 Columbia Road in the Upham's Corner neighborhood of Dorchester, is open for testing on Mondays and Wednesdays from 8:30 a.m. – until 4:00 p.m. There is no prior registration required, and testing is walk-up only. Individuals arriving for testing should enter through the main entrance of the building and will wait in line inside the theater. Testing will occur outside at a mobile van in the back parking lot of the Strand. There will be no public parking available at the Strand during testing.
The City of Boston is partnering with community health centers to increase access to testing, particularly in neighborhoods experiencing higher rates of COVID-19. More information about COVID-19 testing sites throughout the city can be found here. The City is also offering mobile testing sites that are available to anyone, regardless of symptoms and insurance coverage.
For more information about Boston's reopening, please visit boston.gov/reopening. For additional questions, please visit the City's coronavirus website or call 3-1-1, Boston's 24-hour constituent hotline. Text BOSCOVID to 888-777 to receive text alerts on a regular basis, available in 11 languages.