BOSTON – As part of the MBTA's Capital Program, the MBTA's Capital Delivery team has completed critical work that took place over 18 consecutive days on the Blue Line to repair the Suffolk Down pedestrian bridge and accomplish other Blue Line maintenance work.
During this time, shuttle buses replaced Blue Line service from May 22 through June 8 between Wonderland and Orient Heights stations, and regular Blue Line service resumed at the start of service on June 9.
Closed since late 2021, the Suffolk Downs pedestrian bridge will fully reopen to the public this summer.
"As we continue to make these kinds of important investments in MBTA infrastructure, I want to thank our riders for their continued patience during this surge in repair work on the Suffolk Downs pedestrian bridge and maintenance work along the Blue Line," said MBTA General Manager Steve Poftak.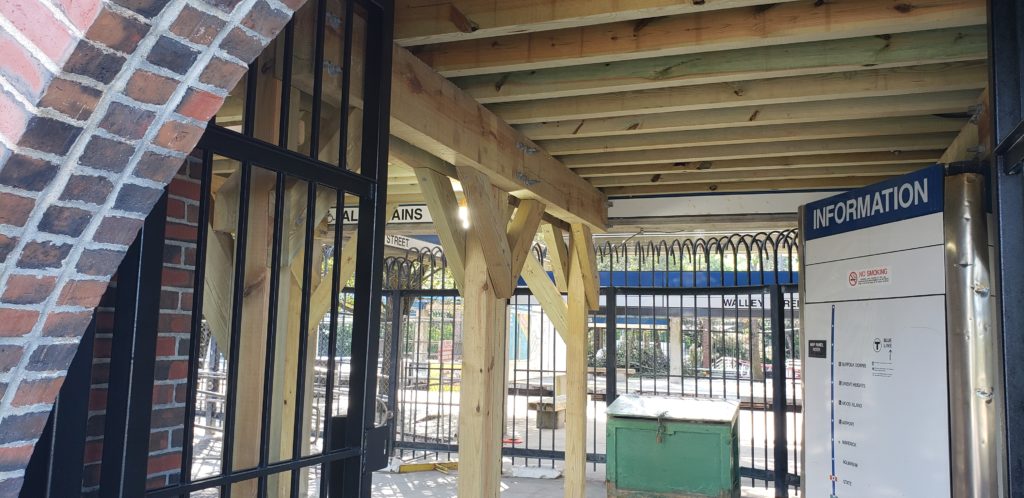 "We know these kinds of service suspensions can be frustrating, but they provide additional time to expedite important safety and service improvements for our riders."
Due to the pedestrian bridge's position in the immediate vicinity of the Blue Line's overhead wires, the work to demolish the bride deck would not have been possible during regular overnight hours.
This 18-day suspension in service was a valuable work window that allowed crews uninterrupted access to the area in order to safely perform demolition work on the Suffolk Downs pedestrian bridge, which would otherwise have required additional service shutdowns.
This important work to repair and reopen the Suffolk Down pedestrian bridge also needed to be proactively accomplished prior to the beginning of MassDOT's Sumner Tunnel Restoration project, which begins June 10.
If the MBTA had not completed this now, the pedestrian bridge would likely not have been repaired for another two years until the Sumner Tunnel reopened seven days a week in winter 2023.
While the Suffolk Downs pedestrian bridge remains closed at this time as final repairs are made to the concrete ramps and pathways that lead to and from the pedestrian bridge, the pedestrian bridge is anticipated to fully reopen to riders this summer.
Following extensive planning and coordination with other internal departments, the unencumbered access to the Blue Line tracks and stations in this area for 18 days also allowed the MBTA to accomplish other maintenance activities, including:
•Upgrading a tremendous amount of utilities at Wonderland station, including work on electrical, communications, and fire safety systems. This work would have taken about one year to complete if it had been accomplished during overnight hours;
• Upgrading the plaza and sidewalks at Beachmont station;
• Replacing lighting at Revere Beach and Wonderland stations;
• Performing signal repairs and replacement work;
• Upgrading the track at Revere Beach station;
• Performing tactile repairs at Suffolk Downs station;
• Performing tree trimming and vegetation management within this area of the Blue Line corridor; and
• Repairing and replacing the fencing along the Blue Line track area between Orient Heights and Suffolk Downs stations.
For more information, visit mbta.com/SuffolkDowns, or connect with the T on Twitter @MBTA, Facebook /TheMBTA, or Instagram @theMBTA.