Good Friday in East Boston.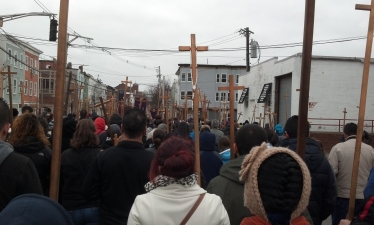 Local Catholics form procession on Sumner Street en route to all churches in EB Photo credit:eastboston.com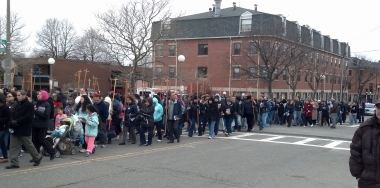 What's with Walsh the union man? BG: Walsh refuses to release details of firefighters' contract
Planning and Zoning Meeting: April 23. Details.
Gamesmanship! Walsh makes a move! BH: Boston calls on Crosby to recuse from casino license decision BG: Recuse
Crime News: Boston police identify EB homicide victim
Coakley's folly! Healy, former aide & AG candidate, supports ballot question. "I am not concerned about the well-being of casino operators. I am concerned about the well-being of the residents of Massachusetts." Well-said.
Update Small Property Owners Assocation joins fundraise efforts for Lex. St. fire.
Herald: Mayor Martin J. Walsh to move on enforcing residency rule
Update: Local 26 joins in to help fellow union members who became homeless as a result of Lexington Street fire. More: Online fundraiser.
POSTPONED! East Boston Main Streets holds primer on business permitting: Meet city councilor Michelle Wu on April 28 at EB-BPL
EB Museum and Visitor Center Planning Meeting: Monday, April 28th
6:00 - 7:30 PM Maverick Landing Meeting Room 31 Liverpool Street

News: Mayor Walsh Increases Funding for Boston's Main Street Districts
Latest News: BPD News: Death Investigation in the Area of 282 Border Street, East Boston
Wally Bowe Fund Event for Salesians! A success! Carlo Basile's touching tribute. More than 300 attend. Corner of Bennington and Byron to be named after youth leader. Also to be named in memory: new room at Club.
Update: Local 26 joins in to help fellow union members who became homeless as a result of Lexington Street fire. More: Online fundraiser.
Support BPS Families Displaced by Fire in East Boston On April 9, a fire damaged several homes in East Boston. Among those displaced are BPS students. This site was launched to support them and their families as they work to rebuild. More
Fire: WCVB-TV: 30+people affected by 8-alarm East Boston blaze: Car fire spread to neighboring home, officials say
More coverage: WHDH-TV: 8-alarm East Boston fire started in parked car
BFD Twitter Feed :
BFD Twitter Feed: "Fire started in this car then extended into basement and up"
Casino News: DeLeo v. Walsh on Boston as a "host' community.
News: Affordable Housing Preserved for Senior Citizens at Victory Gardens
All good things must end. Champs! EB-Malden Youth Hockey wraps up season
Family sets up the Wally Bowe Fund to benefit Salesians Boys and Girls Club: April 11
BG: Decision on Boston area casino license could be delayed
In the works. Roller hockey league planned for Porzio Park. Stay tuned.
BG: State orders environmental review for SD casino
Sorry CBS Local. We had the photograph first.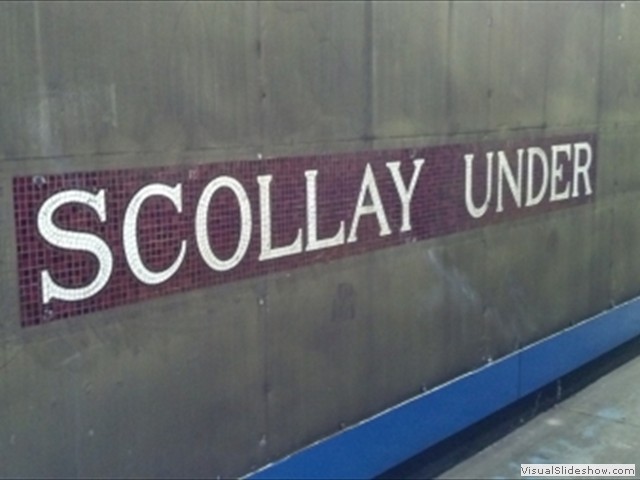 Blue Line Blues to Follow? Government Center Station closes for 2 years. Slideshow from eastboston.com
Commonwealth Mag: State seeks more data on Revere casino impact; Mohegan Sun insists project timetable intact; Related: Commonwealth Magazine: Aloisi: Revere Only Casino Insults East Boston
UH: Boat moored at East Boston dock goes up in flames
Thank you for all the memories! Al's Shoe store to close this weekend
Rep Basile supports House, Senate VALOR Act II: Legislation strengthens 2012 VALOR Act and enhances commitment to Commonwealth's veterans
East Boston residents asked to complete quality of life survey for community health assessment. Details.
Traveling City Hall To Go to show up in Maverick Square on April 24. 12:30-2:30 p.m.

To us it will always be known as the East Boston Camps. Westford Eagle: Westford land name passes by three votes
East Boston residents hold vigil for fallen firefighters
Lieutenant Walsh - Firefighter Kennedy Memorial Fund established. Details.
Two fire fighters die battling Back Bay fire. Statement of Mayor Walsh.
---
Walsh wields a big stick: BG: Walsh questions power of gambling panel in dispute
New hire! East Boston Main Streets has hired a Director for the Small Business Institute
Latest: BH: Boston seeks do-over on casino designs
Business News: Mount Ida College Announces East Boston Savings Bank Scholarships to Students
Alt-schools in demand! BG: Mass. lawmakers seek deal on charter school cap; Research Bureau: Help Level 3 schools in Boston
BH: Nucci: Mayor aces casino panel play
Walsh: East Boston, City of Boston "intimately related and cannot be disentangled from the Suffolk Downs site,"
A horse laugh for Suffolk Downs? BH: Historic barns may stall Suffolk's casino bid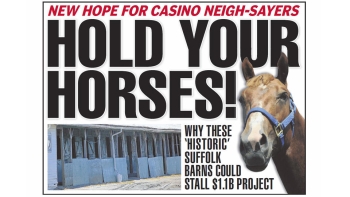 What says Mayor Marty? BH: Plan to move horse barns could make hay for Boston
Latest news roundup. Subscribe to EastBoston.com RSS
Prayers for Mayor Menino: BG: Menino is being treated for advanced cancer
---
Big Debt Issue on Favorable Terms. City's sound bond rating.
Tech News: DigitalJournal: Spray Applied Waterproofing System Allows Boston Tunnel to Open Ahead of Schedule

A bubble in Boston? BH: Endangered: Boston condos under $500G
Land Use Council now accepting grant applications for Lenny Florence Fund. Details.
Map Exhibition Opens at Boston Public Library. Exhibition tells the story of a "new" Boston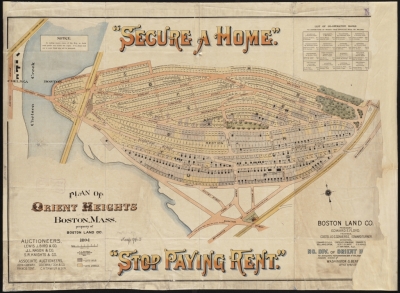 Cullen: BG: "Disorder in the court."
News: BG: Report portrays do-little Suffolk County register
Business News: Bostoniano: Sterlingwear of East Boston Announces Partnership with L.L. Bean
New Safety Rules for Meridian Street Bridge: BG: Operators must now walk E. Boston drawbridge before raising it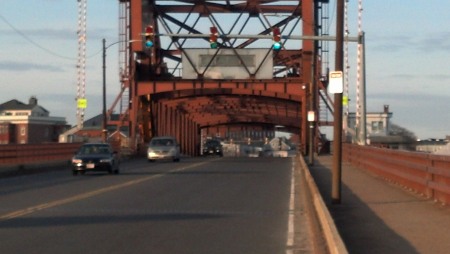 |photo: eastboston.com
---
East Boston's Library Friends Organize the First High School Art Conservation Workshop: Working to preserve historic art work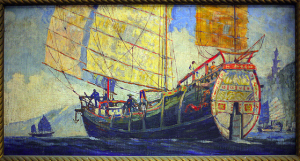 Ships Through the Ages, by Frederic Leonard King
Relay for Life set for June 13. Details.
City of Boston Animal Care and Control Launches Online Licensing for Dogs: May 3 for Eastie
---