News from East Boston's best information utility!

BRA to present at Friends of East Boston Greenway Meeting on Thursday
Thursday, May 23, 2013, 6:30 - 7:30 p.m. East Boston YMCA, 215 Bremen Street The BRA will be presenting a project update and conceptual design of the new Greenway section that will serve as the final connection to Constitution Beach.
Ditching the Dishes! Herald 5/18 FCC watchdog rips delay of Hub satellite law ruling

photo credit: eastboston.com
Politics and Casinos: Globe 5/17: Big names coalesce around Charlotte Golar Richie Meanwhile according to the Globe: "Representative Carlo Basile of East Boston initially sided with Suffolk District Attorney Daniel F. Conley. But Conley's announcement this week that he supports a citywide referendum on a casino at Suffolk Downs, a break with Menino and East Boston lawmakers, may cost him Basile's backing. Basile, who helped author legislation aimed at confining the vote to East Boston, said he was contemplating pulling his endorsement. 'This is just too big of an issue in my community,' he said."
Gearing up for Gomez! Ward 1 GOP Committee, in tandem with Revere GOP, endorses Gomez for Senate.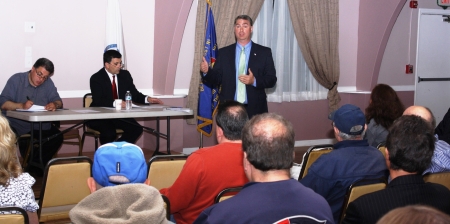 State Rep. Brad Hill addresses joint meeting of Revere and East Boston GOP committees on May 15 in Beachmont. Read more here.
Networking Breakfast: EB East Boston Main Streets to host June networking breakfast on June 11
Unity in Amity! Celebrate Diversity 2013 Metro Boston Race Amity Celebration - June 9
Make Mayor's Race Casino-cash free says Sal: Herald 5/20: Councilor: Ban casino cash from race
Charlestown Patch: LaMattina may face opposition from Ribiero and Gannon
Crime News: Universal Hub 5/16: East Boston teen to spend 15 years in prison for killing man who sexually abused him
Politics: WBUR For The 'New Boston,' Concern That Opportunity To Reshape City Council Might Slip Away
Mark the Date! June 20: The 5th Annual Salesian Boys & Girls Club of East Boston Community Breakfast
Sign them up! Globe 5/15: YMCA offers free summer memberships for 13- to 17-year-olds
News: Globe 5/15: $25 million loan aimed at saving homes
Getting a bit hot! Herald 5/11: Wynn to Menino: Butt out! Background: Wynn cuts deal with Everett for casino! Globe 4/26: Everett strikes deal with Steve Wynn for casino
Politics Update Boston Mag 5/16: Murphy To Conley: Thanks, But No Thanks Background: Conley comes out for city-wide vote on casino!
Casino forum at Suffolk U: Daily Item of Lynn 5/10: Casino supporters, opponents mix it up at forum
News: East Boston Shines with Neighborhood Clean-up
More on Arroyo: Herald 5/8: Observers: Some wary of Arroyo's link to casino firm
Conflicted? Herald 5/7: Felix Arroyo rolls the dice "Mayoral hopeful Felix G. "Arroyo is playing a risky game of political poker by hiring a high-powered strategist who is also promoting the $1 billion Suffolk Downs casino resort plan — a dicey arrangement that's raising concerns about a possible conflict of interest, advocates and watchdogs warn."
News Metropolitan Beaches Commission To Hold Public Hearings In Nine Communities This Summer

News: Globe 5/5 Silver Line route mapped out for East Boston, Chelsea
How East Boston Voted in the Democratic and Republican Primaries (Special Election 2013)
OpenMedia.org Boston's Immigrant Community Celebrates May Day, Rally Highlights Important Issues
Wonderful! EB's Doreen Iudica Vigue Junk Drawer Jesus And The 'Flotsam' That Defines A Family

PRNewswire:: State House Ceremony Honors Bunker Hill Community College Graduate

Success: Wakefield Patch 4/29 "3,000 Ride Through Area for Wounded Veterans"
Suffolk University Announces Fourth Athletics Hall of Fame Class: East Boston's Anthony Camiolo to be inducted
Mother Nature News: Suffolk Downs' gamble to build an eco-friendly casino in East Boston
How to help victims of Marathon bombing! This is one place: Celeste & Sydney Recovery Fund
Menino made the city his extended family
Menino made the city his extended family
---
Overcharged for Taxi Fare? Contact the city's Hackney Division for a refund
Data: BRA Summary File 1(SF-1)