by Frank Conte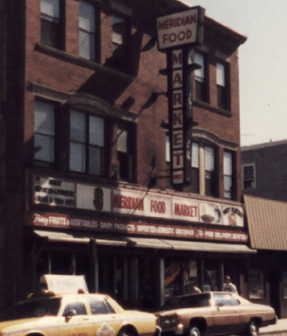 For 30 years, Frank Schirripa and his brother Rocco, along with their brother-in-law, Rocco Petrola, could be found unloading a truck of produce for the Meridian Food Market. Nothing ever stopped the owners of this small but popular market on busy Meridian Street from getting up for a 6 a.m. opening. In snow, sleet, rain, the heat, there they were carting their fruit, vegetables and other delicacies, laying out their produce on the sidewalk.
As they stocked up for yet another busy day, inside, the preparations for the lunch crowd would soon begin. Out front the scene could be quite but back in the kitchen things would always be busy.
You could always depend on Meridian Food Market for something unforgettable, like the Italian specialties, the submarine sandwiches, the chicken, broccoli and ziti all served with a Southern Italian touch. And everything else in between. The long lines at lunchtime tell a story. In short that people know quality when they see it. Meridian Food Market was one the places you took your friends to show what authentic East Boston food was like. No one was unimpressed.
On Saturday, June 17, the Schirripa brothers unloaded their last truck, weighed their last oranges on the scale, wrapped up their last rice ball and bagged their last bag of groceries. Since 1970 the family has run Meridian Food Market up and down a major thoroughfare with distinction and great care. And now the time has arrived for the brothers to retire.
"When you get a certain age, you want to relax and enjoy what you worked for as well as take care of your health," says Rocco Schirripa, an Italian from Reggio Calabria who came to the United States in 1961 by way of Australia. "They say nothing lasts forever."
True enough. But to think of the Meridian Food Market without Rocky slicing cold cuts is like thinking of Swiss cheese without the holes. To think of the store without Frank is like thinking of the Red Sox without Fenway Park. It's a picture that will needs adjusting. Not that the new owners, Linda and Michael Petrillo and Luigi and Dorothy Noviello intend to change anything. "They did a wonderful job for the community,"says Linda Petrillo, who runs the renown Racket Store a few doors down on Meridian. Her family's track record in running well-established institutions is exemplary. In 1980 she bought the noted houseware and gift shop from Barney Fritz whose family ran the Racket Store for 75 years. "Nothing's going to change," she says. The other Rocky, Rocco Petrolo will remain working.
After all, why mess with success?
That success was built in part by the relationships Frank Schirripa made over the years. Eager to please, gentlemanly, ever so knowledgeable, Frank made sure a customer was comfortable in his store. He would find the time to explain something to you; or even solicit your opinion. Of him it can be said that it was hard to find yourself in a position to be disagreeable.
"Some people believe they can't deal with the public but I enjoy dealing with the public," says Frank who often speaks in an easygoing manner. I'm cut that way. I can talk with anybody about everything."
"What do you attribute to your success?" he was asked. "Taking good care of everyone and making sure they come back to Meridian Food Market."
And even with the tough competition from supermarket chains over the years, Meridian Food Market kept customers coming back in droves for the trademark produce and cold cuts. The stuffed peppers and panzerotti too. From the health care professionals from the East Boston Neighborhood Health Center to the turnpike crews from the Sumner and Callahan tunnels to State Police officers and the newspaper people — all kept coming back. And not just from East Boston either. "We have customers from all over the state," explains Frank, "As a matter of fact we have a family from Nantucket. Every time they fly into Boston they come to see us."
And with good reason. The homemade specialties like arancini have been recognized as among the best in the city. In 1993, their arancini was voted "Hit of the Week" by the Boston Globe's Calendar magazine. Also known as rice balls, arancini which include green peas tomato sauce, cheese and sometimes meat, are fired to a golden orange color. They are not easy to make; but they are certainly worth the wait. "Much as I would like to take credit, arancini are Sicilian they're not Calabrese," remarks Frank, who is from a town named Gioiosa Marina.
When the family started its store in 1970 at an empty store at 75 Meridian, the U.S was mired in Vietnam, Richard Nixon was President, Kevin White was a popular mayor and the Boston Bruins were on their way to a Stanley Cup. Rocky says the family started a small market because they saw a need for specialties and imported goods that many Italian immigrants craved from the Old World. "Once we came here I liked everything about it," adds Frank.
A fire at its larger store at 63 Meridian Street in 1987 didn't stop the family business. The building is now occupied by to the East Boston Neighborhood Health Center.
Today the neighborhood has changed. The city is run by its first Italian-American mayor, Tom Menino, the nation is amidst record prosperity, the Red Sox are in the hunt for the pennant and East Boston is flourishing with new immigrants. And while Spanish is spoke more than Italian, the two groups work side by side able to understand each other because of the linguistic and cultural similarities. Over the years, Meridian Food Market adapted to that change welcoming a new clientele and workers whom share the same passion for quality. Along with the roasted peppers, the shelves sport a line of Latino favorites such as mangos, avocado, and plantains. Pastene is stacked near Goya.
To say that Meridian Food Market is an immigrant success story is to understate the obvious. "We succeeded and built a beautiful business," recalls Frank of his story. "There was never a lack of business. We don't know what that means."
What they do know are the relationships they've made with all kinds of people. "I would like to thank all of my customers and wish luck to the new owners," Rocco says emphatically with emotion. "I will miss them."
And all of us who had the fortune of being served will miss you both as well.
-30-
June 21, 2000 – All rights reserved. Frank Conte.