Edith DeAngelis, who spent a lifetime advocating and fighting for open space in East Boston, among other endeavors, has passed away. DeAngelis, who lived on Meridian Street, served the community in so many capacities going back as far as chairwoman of the The East Boston Recreation, Land Use, and Master Planning Council in the 1970s. At community meeting after community meeting, Edie would remind public officials that East Boston had the smallest amount of open space of any comparable neighborhood. Her command of local history, urban design and community organizing are unmatched. She was also an accomplished academic.
Her work and love of East Boston continued even when she moved to Brooksby Village in Peabody. In her later years, she fought for the removal of deteriorating oil tanks on Chelsea Creek, which resulted in the Hess Oil Company turning over the property to the city for open space. Til her last days, she kept abreast of events in the hometown she loved dearly.
Edie's accomplishments were far-reaching and responsible for the vibrant community that is East Boston. The history of East Boston is really the history of its women, who charged into the struggles to improve the lives of all. Edie's place in that history is secured by her kindness and resolve. She will be missed. Read the obituary below.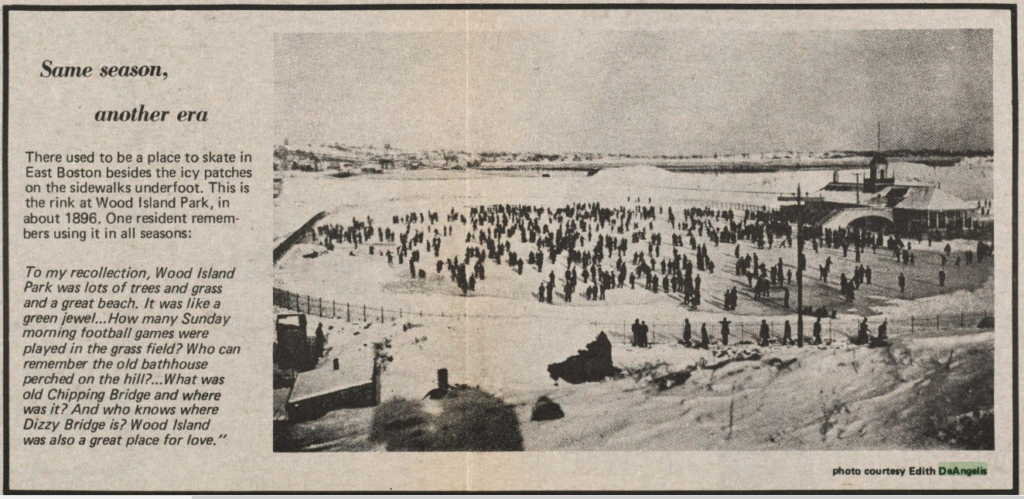 Update 3/4/2021 Here is the obituary from McGrath's Funeral Home on Chelsea Street.
DeAngelis,D. Ed. Edith G., Doctor Emeritus, of Brooksby Village in Peabody, formerly of East Boston, passed away after a long illness on February 28,2021. She was born in East Boston, on March 22, 1929. She graduated from East Boston High School in 1947, attended Sargent College at Boston University and received a Bachelor Of Science Degree in 1951, a Master's Degree in 1955, and a Doctor of Education in 1977.
Her teaching career began in the Winthrop Public School System. She later went on to teach Physical Education and Recreation, as a Professor and Department Head, at Boston State College/ University of Massachusetts, Boston, until her retirement.
Edith traveled and attended many other colleges and universities to obtain graduate credits in her fields of study. She focused and completed her Doctoral Dissertation on the Costumes, Dance and Traditions of the Native Americans.
Edith volunteered countless hours to the Trinity Neighborhood House in East Boston. She made a life-long commitment as an activist for open spaces, recreation and nature, through the parks and recreation system in Boston. She was a veteran member and active participant in Piers Park, Freedoms Foundation, East Boston Greenway, and numerous youth organizations, just to name a few. She was a founding member of the East Boston Community Gardens. She also belonged to the East Boston Historical Society and was twice featured in "Who's Who for Professional Women in America". Near the time of her death, she was still actively working on the Chelsea Creek Project.
She was a devoted member and generous benefactor to the Holy Redeemer Church, where she and her sister served as Franciscan Ministers.
She truly was a dedicated individual and dauntless worker, who never sought recognition for herself. She loved her family and had many friends and colleagues.
She leaves her sister and best friend, Florence R. D'Avella and her late brothers, Joseph and Robert DeAngelis, nephews, Joseph DeAngelis and his wife Ellen, Richard A. D'Avella and his wife Lisa, Joseph Zarba, and the late Christopher R. Zarba, and nieces, Carol Ann DeAngelis Moulton and her husband James, and Patricia A. D'Avella, and many grand nephews and nieces.
Due to the COVID-19 pandemic, a private service will be held for family members and close friends only at Magrath Funeral Home in East Boston and a Celebration of Life is planned for a later date.