EAST BOSTON NEWS
Boston, MA— Representative Adrian Madaro (1st Suffolk District, East Boston) endorsed Michelle Wu for Mayor today, growing her multicultural, multigenerational, multiracial coalition. Madaro applauded Wu's focus on public transit, immigrants' rights, equity and environmental justice.
"My friend Michelle Wu has been a champion on the issues that matter most in East Boston. Whether it's her tireless efforts to improve our public transportation system and make it more affordable, her commitment to equity, or her Boston Green New Deal to protect our open spaces, Michelle is the best choice for our neighborhoods. Michelle is a first-generation American like me, and I know she will fight for the rights of our immigrant neighbors. I'm proud to endorse her today," said Representative Adrian Madaro.
"I'm grateful and excited to receive the endorsement of my friend, Representative Adrian Madaro. He has been an incredible advocate for East Boston and a leader on climate, transit, equity and addressing our substance use crisis. I look forward to working with him and all of our state partners to tackle our biggest challenges and reshape what's possible for our neighborhoods," said Michelle Wu.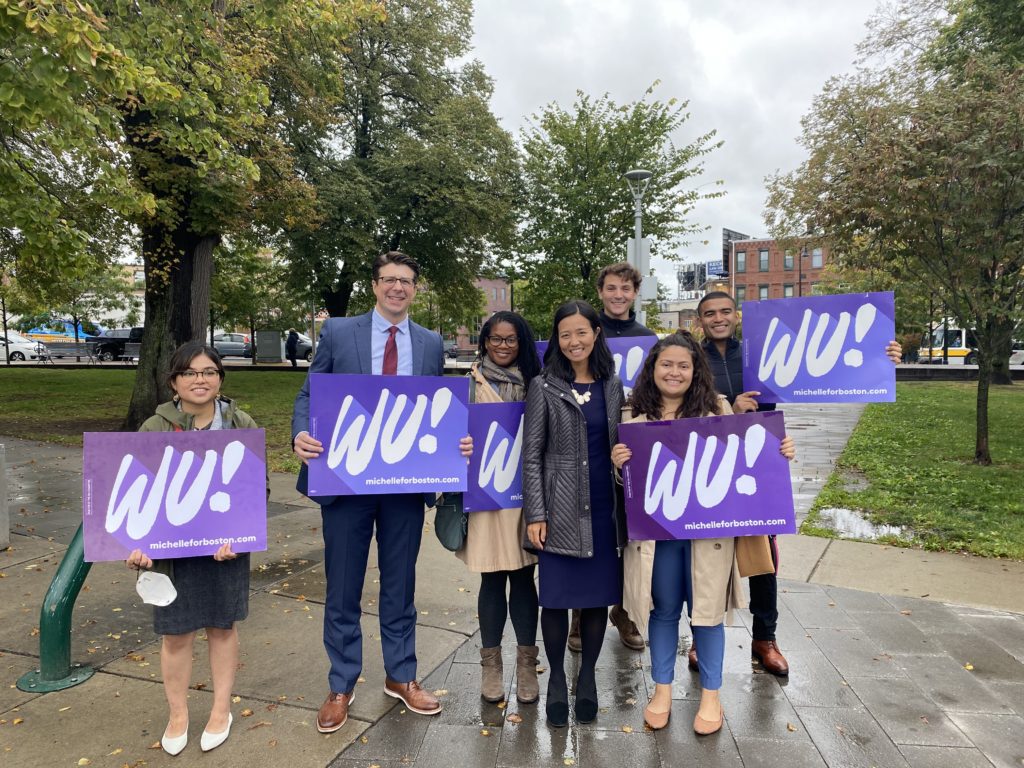 Madaro serves as the House Chair for the Joint Committee on Mental Health, Substance Use & Recovery. Madaro was elected in 2015 and is now serving his fourth term after being re-elected in 2020.
In East Boston, Adrian has been an active participant and leader in community organizations and efforts large and small. Adrian has volunteered on several nonprofit boards, including as Vice President of the East Boston YMCA board, President of the Harborside Community Council, member of the East Boston Neighborhood Health Center board, Vice President of the Neighborhood of Affordable Housing (NOAH), member of the East Boston Waterfront Project Advisory Committee (PierPAC), and an elected member of the Ward 1 Democratic Caucus. Adrian is also a founding member of a local substance abuse coalition, the East Boston Alliance for Support, Treatment, Intervention, and Education (EASTIE), and is co-founder and co-chair of the Mario Umana Public Service Fellowship, a program that provides paid public service internships for East Boston High School students. At the State House, Adrian serves as the House Chair of the Joint Committee on Mental Health, Substance Use and Recovery, Chair of the Afterschool Caucus, Co-Chair of the Italian Caucus, Commissioner on the Metropolitan Beaches Commission, and past Chair of the Boston Delegation.
Representative Madaro's endorsement adds to an enthusiastic multigenerational, multicultural coalition of grassroots supporters, including leaders Senator Elizabeth Warren, Congresswoman Ayanna Pressley, Mayor Kim Janey, Sheriff Steve Tompkins, Boston City Councilor Lydia Edwards, Boston City Councilor Liz Breadon, Boston City Councilor Ricardo Arroyo, State Senator and Assistant Majority Leader Sal DiDomenico, State Representative and Assistant Majority Leader Mike Moran, State Representative and Ways and Means Chair Aaron Michlewitz, State Senator Sonia Chang Diaz State Senator Julian Cyr, Representatives Liz Miranda, Jay Livingstone, Tram Nguyen, Tommy Vitolo, Natalie Higgins, Vanna Howard, Maria Robinson, Andy Vargas, and Sean Garballey; Suffolk County Register of Probate Felix Arroyo Sr.; former State Representative and Assistant Majority Leader Byron Rushing; labor unions 1199 SEIU, 32BJ SEIU, Teamsters Local 25, New England Joint Board of UNITE HERE!, UAW Region 9A, Laborers Local 22, Alliance of Unions at the MBTA, MBTA Inspectors Union Local 600, OPEIU Local 453; climate organizations Sunrise Boston, Sierra Club, the Environmental League of Massachusetts, 350 Mass Action; Progressive West Roxbury/Roslindale; Boston's Ward 1, Ward 4 and Ward 5 Democratic Committees; The Boston Guardian; and fellow municipal elected officials from across Greater Boston and the Commonwealth of Massachusetts. For all of Michelle for Boston's endorsements, visit michelleforboston.com/endorsements