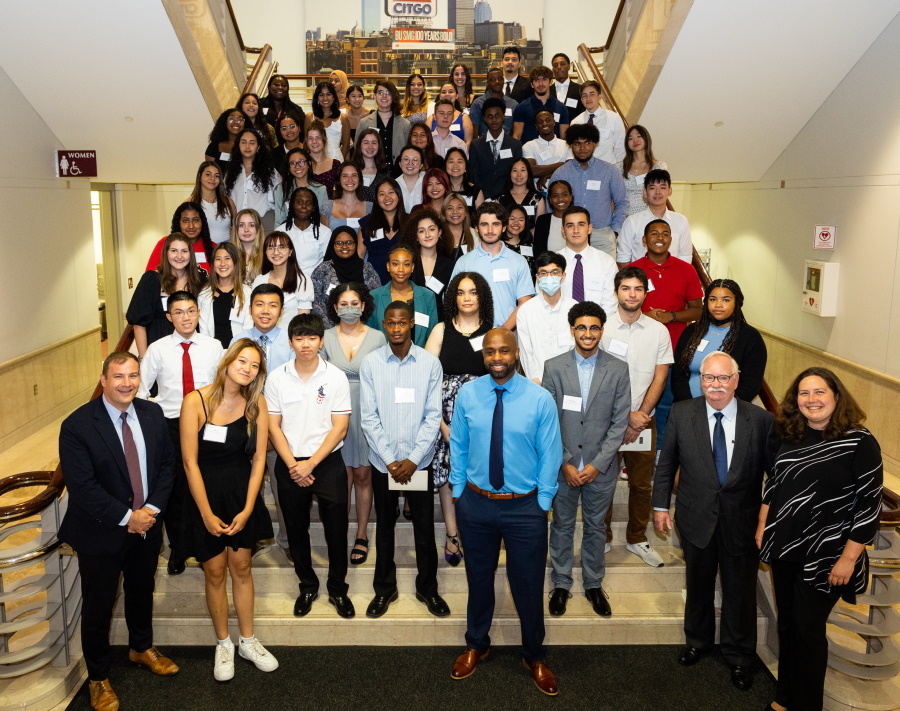 Three graduates from East Boston will receive the Thomas M. Menino Scholarship, a prestigious four-year, full-tuition scholarship awarded to high school seniors graduating from Boston Public Schools. And, five students from East Boston will receive the Boston University Community Service Award program, which fully funds calculated financial need without loans for any admitted Boston Public Schools graduate and transfer student.
East Boston
Safaa Alramahi
Angel Amaya*
Luigi Bianchi
Nico Guthrie
Sihem Hadj Sahraoui*
Hafcha Khanam*
Kimberly Landaverde Guillen
Nio Ymeri
*Menino Scholars
These students are part of the 106 local graduates who will receive BU scholarships and were honored on Thursday, September 1, 2022. The ceremony took place at Boston University's Questrom School of Business Auditorium and Atrium and was followed by a reception.
A Word about the Boston University Thomas M. Menino Scholarship Program and Community Service Award Program
The Thomas M. Menino Scholarship Program annually awards four-year, full-tuition scholarships to graduating seniors from Boston's public high schools. Boston University inaugurated the program in 1973 as the Boston High School Scholarship Program as part of the University's continuing commitment to the City of Boston, and renamed the program in 2013 to honor Boston's longest-serving mayor, Thomas M. Menino (Hon.'01). Scholars are chosen for their academic achievement and motivation by a five-person committee of representatives from the University and the Boston Public Schools.
Since its inception, the Scholarship Program has awarded close to $200 million in scholarships to 2,031 students. Thirty-five new scholars are being honored today. The scholars will attend an intensive, one-week academic orientation to prepare them for the challenges of college learning and will participate in an ongoing support program. Over the next four years, this group will receive more than $9 million in scholarship funds from Boston University. Beginning with first-year students who enrolled in fall 2009, Boston University expanded the opportunities for Boston public high school students to include the Community Service Award. Winners of the Community Service Award receive Boston University grants to fully fund their financial need without loans. Recipients receive a mentor to assist them in a successful transition to Boston University and connect them to important campus resources, including community service opportunities. This year, we recognize 71 Community Service Award winners who represent a commitment of $15.8 million from Boston University for the
next four years.

Donald Frazier Taylor, Jr. (1933–1983)
Donald F. Taylor, Jr., was a graduate of Boston Latin School. In 1963, he received a master's degree from the Boston University School of Social Work. During his career, he held many positions at Boston University, including faculty appointments in the Schools of Medicine, Social Work, and Public Health. At the time of his death, Mr. Taylor was the program director for the Area Health Education Center, a federally-funded initiative designed to utilize the academic resources of Boston University in an effort to retain professional healthcare providers in primary care facilities throughout the Greater Boston area.

Mr. Taylor was a recognized leader in the human services community and served as a role model for his colleagues, his peers, and, in particular, his students, for whom he had a special devotion and commitment. Today, we honor Mr. Taylor's many contributions to Boston University, to the human services field, and to the care and mentoring of students by awarding one scholarship in his memory to a graduate of Boston Latin School.
Posted Friday, September 2, 2022