Project Update:
(June 26, 2022)
Green and Orange Line Service Resuming, Effective Immediately
BOSTON – Following a comprehensive inspection of the infrastructure by internal and third party engineers and safety experts, an intensive assessment of the repair work performed, and subsequent testing of trains in the tunnels, the MBTA's team of structural engineers have determined it is safe for both Orange and Green Line train services to resume, effective immediately.
The Government Center Garage developer has installed the necessary supports to uphold the structure. Based on comprehensive inspections of the repair work, structural engineers and safety experts have deemed the structures and the surrounding infrastructure to be structurally sound. Following the successful testing of trains in the tunnel, Green Line and Orange Line train service can safely resume. Structural engineers will continue to closely monitor the tunnel and infrastructure during daily Orange and Green Line operations.
The MBTA thanks all of its riders for their patience during this service disruption, infrastructure assessment, and service restoration.
For more information, visit mbta.com/DowntownDiversion, or connect with the T on Twitter @MBTA, Facebook /TheMBTA, or Instagram @theMBTA.
Project Update: Tunnel Closure Scheduled for Weekend of 6/24 POSTPONED
Tunnel Closure POSTPONED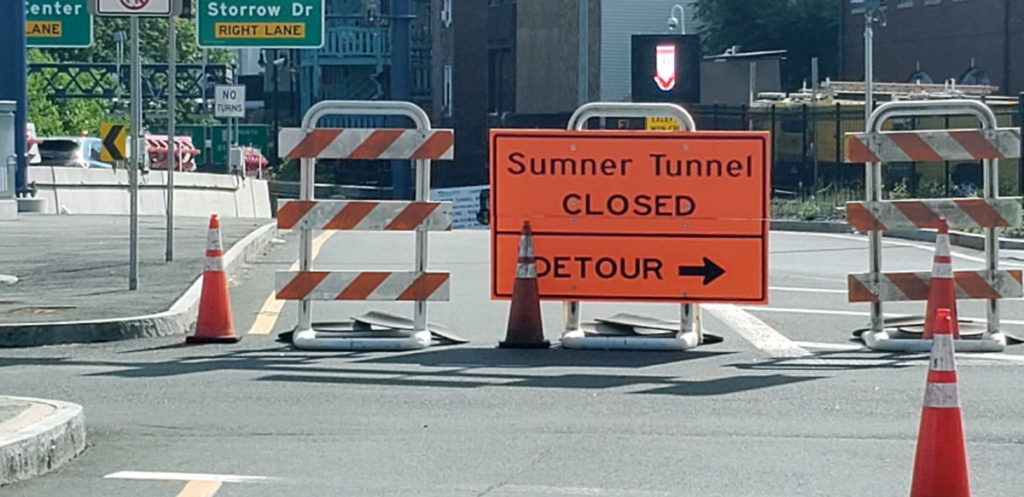 Weekend of June 24
MassDOT's Highway Division is suspending planned construction work on the Sumner Tunnel that was scheduled for Friday, June 24, 11 p.m. through Monday, June 27, 5 a.m., meaning the tunnel will remain open for normal use throughout the weekend.
This decision to suspend planned work was made to minimize any additional travel impacts created by the suspension of regular MBTA Orange and Green Line service in the area of Haymarket Station.
While the Sumner Tunnel is in need of repairs, it remains safe for use. Recent instances involving a construction site near the MBTA's Haymarket Station have had no impact on the Sumner Tunnel's structural integrity.
Weekend tunnel closures are expected to resume in two weeks after the July 4 holiday.
Holiday
Weekend of July 1
In observance of July 4th, the tunnel will be open for use during the weekend of July 1st. Work will resume on the following weekend of July 8.
Holiday How can I find more information
Stay up-to-date and informed by following the @MassDOT twitter account and Mass 511 for real-time updates, visiting the project website, or emailing us with any questions.
You can also sign up to receive project updates via email by clicking this link.
Project website: mass.gov/sumner-tunnel-restoration-project
Project email: Sumner100@dot.state.ma.us
Construction Hotline: (508) 510-2920