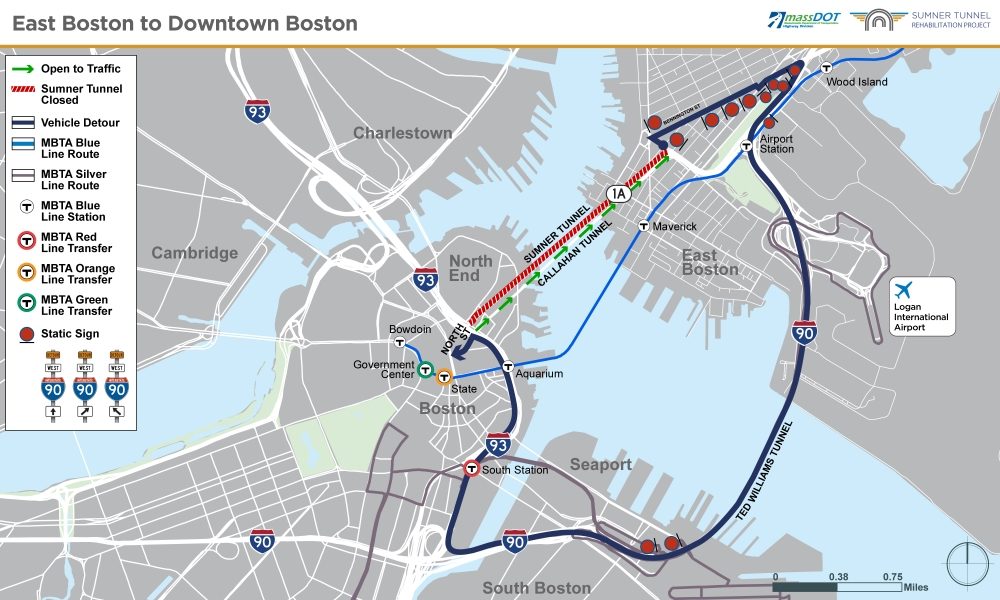 From WGBH
Traveling between downtown Boston and East Boston, including Logan International Airport, is about to become even more of a headache.
State transportation officials are preparing next month to kick off a major, year-plus rehabilitation project in the Sumner Tunnel, which is in a state of "disrepair" 87 years after it opened as the first traffic tunnel in Massachusetts.
The work will shutter the underground tunnel that runs one-way from East Boston to downtown Boston from Friday night through Monday morning for three dozen upcoming weekends, then for four continuous months next year, and then for another series of weekends in late 2023.
Instead of cruising underneath Boston Harbor to get from East Boston or the airport to the city center and points north and west, the thousands of motorists who use the tunnel on a given day will be rerouted to the Ted Williams Tunnel or on a winding detour into Revere and Chelsea.
The Sumner Tunnel, MassDOT warns in its official summary of the project, is "well beyond patches and repairs: the only way to keep it in service is with a top-to-bottom restoration."
And to accomplish that, drivers and residents of nearby neighborhoods will be asked to put up with an unpleasant stretch of heightened congestion and longer rides.