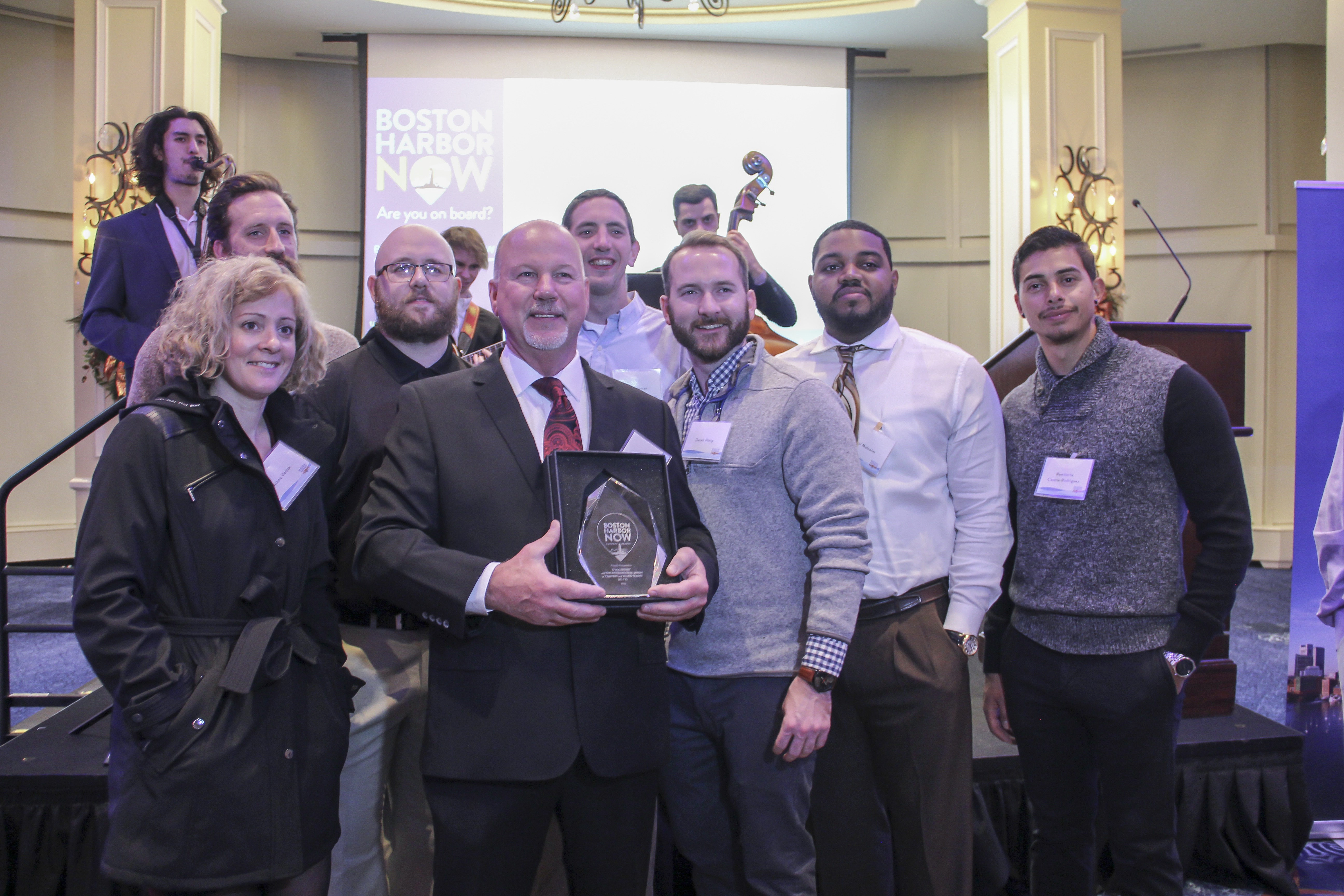 Instructor Jim Sullivan and FTI-NE apprentices with the Onboard Award. FTI-NE apprentices volunteered countless hours towards the maintenance and upkeep of the Boston Harbor Islands.
Special guests including State Senator Nick Collins, State Representative-Elect David Biele, State Representative Dan Hunt, and Boston City Councilor Ed Flynn were in attendance at the event.
In an ongoing partnership between industry leader TJ McCartney and the International Union of Painters and Allied Trades District Council 35, countless hours have been devoted towards the maintenance and upkeep of the Boston Harbor Islands.
Boston, MA – At an awards gala hosted by Boston Harbor Now, contractor T.J. McCartney, Inc. and members from the International Union of Painters and Allied Trades DC 35 were recognized for their long-standing commitment to renovate and revive facilities on the Boston Harbor Islands.
TJ McCartney, with the help of apprentices from the Finishing Trades Institute of New England, volunteered countless hours to the maintenance of several Boston Harbor Islands, including years of pro-bono work with the creation of three gazebos on Spectacle Island and the rehabilitation of many different projects on George's Island.
"The Painters Union has been our partner in this initiative since the beginning. We are excited to partner together on this project because it benefits not only the people of Boston but is a wonderful experience for all those that visit this city." Said Tom Steeves, President of TJ McCartney. "We are honored to accept this award from Boston Harbor Now for our work at the Boston Harbor Islands, and we look forward to continuing the collaboration with more projects in the near future."
"We have the best-trained apprentices in the industry. Our partnership with TJ McCartney has provided an excellent opportunity for them to gain work experience and contribute towards a better Boston," said Jeff Sullivan, Business Manager, IUPAT DC 35.
"Our apprenticeship program recently received national accreditation as a post-secondary educational institution and we are working towards receiving college degree-conferring authority. Our students will soon be receiving Associates Degrees when they graduate from the program, increasing their ability to embark on successful careers in the finishing trades. We are thankful to Boston Harbor Now for recognizing the work of our apprentices and our partner TJ McCartney."
The volunteer efforts of TJ McCartney and IUPAT DC35 contribute immensely to Boston Harbor Now's goal of re-establishing Boston as one of the world's great coastal cities. These efforts also serve as a primary example of how Labor/Management partnerships in the construction industry work together to improve the parks and communities for the people of Boston. Both organizations were honored alongside The Fallon Company and Massachusetts Port Authority for their contributions to Boston Harbor.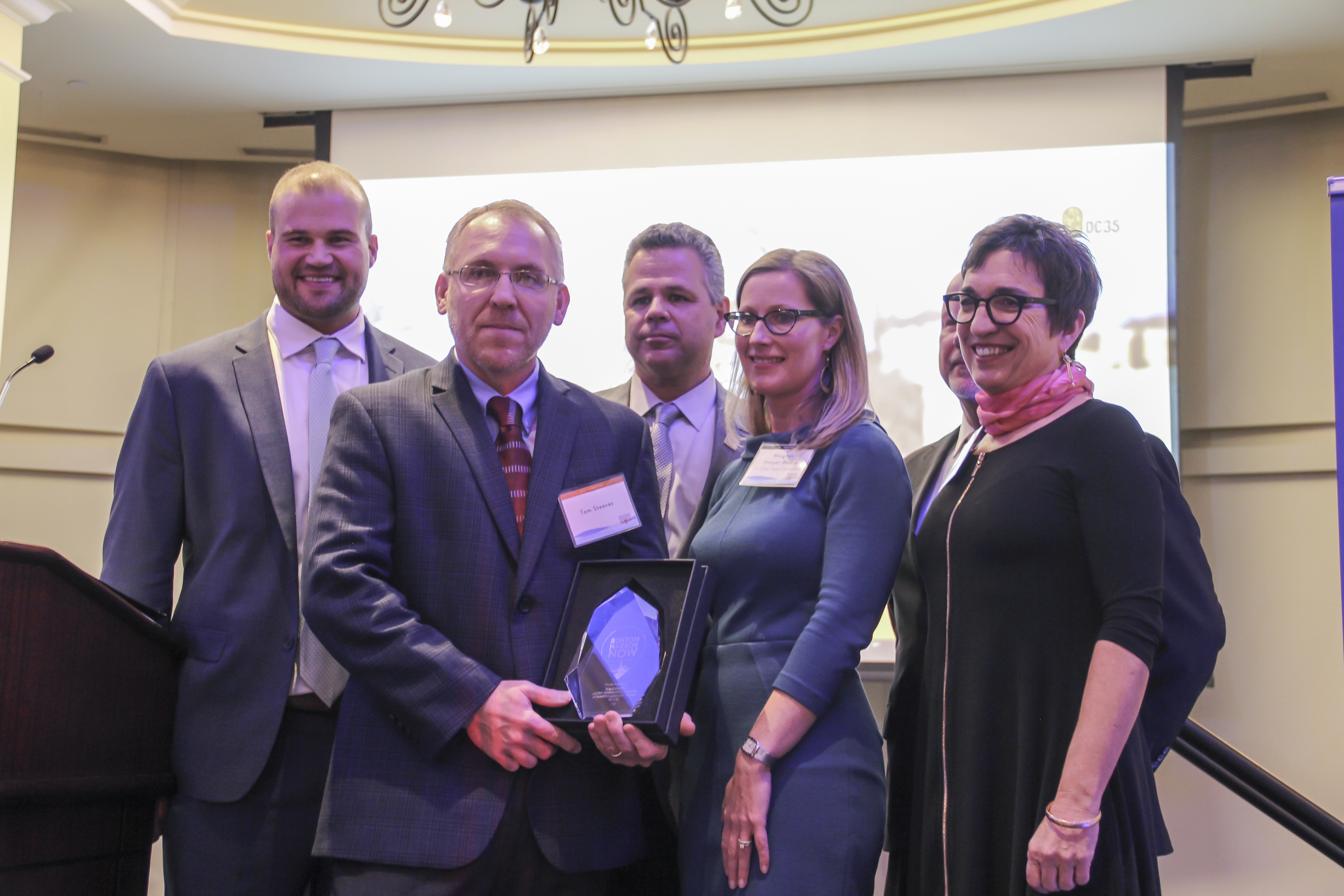 About T.J. McCartney, Inc.: With close to 40 years of experience in the drywall industry, we provide our clients with the best project managers, estimators, and field personnel in the business. T.J. McCartney, Inc. is certified with SOMWBA, as well as with the city of Boston as a WBE. At T.J. McCartney, Inc. we have built a reputation for quality workmanship and exceptional performance.
For more information about T.J. McCartney, Inc. please visit https://www.tjminc.com/
About District Council 35:
District Council 35 has a history of doing charity projects to support the community. Their organization branches and members have done work in public schools, organized hurricane relief, and collaborated in support of numerous community groups around New England. District Council 35 is an organization of approximately 4000 members in Massachusetts, Maine, New Hampshire, Vermont, and Rhode Island affiliated with the International Union of Painters and Allied Trades. District Council 35 is committed to serving the interests of members and those unrepresented workers who hope to join. The DC 35 is determined to continue to ensure the best wages and benefits in the industries. The organization's mission is to represent members for purposes of collective bargaining, to organize workers in a variety of occupations, and to advocate for workers and their families. For more information about IUPAT DC 35, please visit http://iupatdc35.org/.